After 47 days in captivity, one of the kidnapped Kaduna students, has pleaded with parents to come to their rescue
- The student who is reportedly pregnant made the appeal in a video released by their abductors
- The kidnap victim lamented she and others are ill and they have no food to it
Bandits on Tuesday, April 27, released a video of a pregnant student abducted from the Federal College of Forestry Mechanisation, Afaka, Kaduna state.
According to
Daily Trust
, the victim is one of the 39 students abducted in March.
Recall that the bandits had released 10 of the abducted students, leaving 29 of them in captivity.
[center]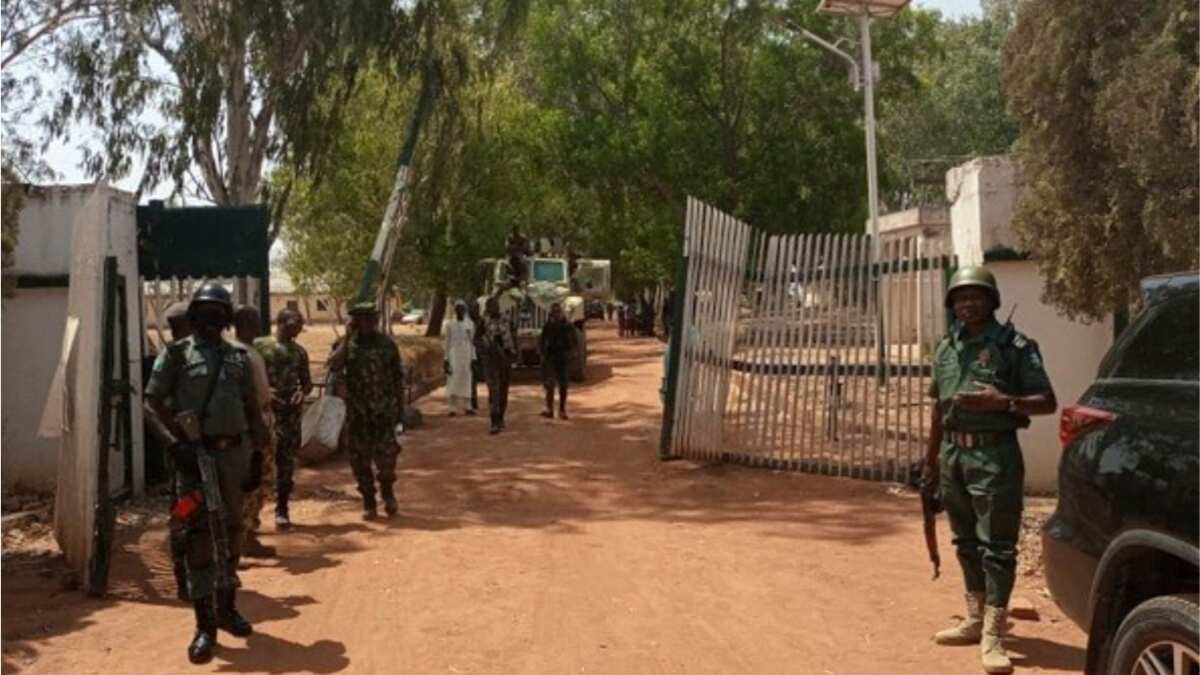 [/center]
Nigerian soldiers and police officers stand at the entrance of the Federal College of Forestry Mechanisation in Kaduna state on March 12, 2021. Photo credit: BOSAN YAKUSAK/AFP
In the short video seen by Daily Trust, a bandit asked some of the students to come forward and speak to the camera.
Speaking in the short clip, the pregnant woman pleaded with their parents to rescue them.
She was quoted to have said:
[blockquote]"We are appealing to our parents to help us, we are tired and there is no food. They should do their best to get us out of this place.
"We have spent 47 days, almost all of us are ill and there is no food. We sleep in the open even when it rains."[/blockquote]
The bandits also introduced a woman they addressed as the wife of a military officer who was abducted from her home in Tirkania-Agwa in the Chikun local government area of the northwestern state, Daily Nigerian also reported.
The victim, who said her husband is a naval officer working in Warri, Delta state, urged the federal government to come to their rescue.
Three parents of some of the abducted students also confirmed that the abductors reached out and made a demand of N500 million for their release.
Earlier, Legit.ng reported that Sheik Ahmed Gumi, a popular Islamic cleric, said
the increase in kidnappings in Kaduna state
was due to the bombardment of the camps of the bandits.
Gumi said on Monday, April 26, that the bandits had suffered heavy casualties and were determined to retaliate.
The Islamic cleric advised the government to set up a committee to open a dialogue with those ready to embrace peace, adding that it was the only way to resolve the crisis in the state.
---
Administrator